Interesting article on ESPN. According to it, rookies almost never provide a positive impact. Even rookie LeBron was a negative player.
Highlights: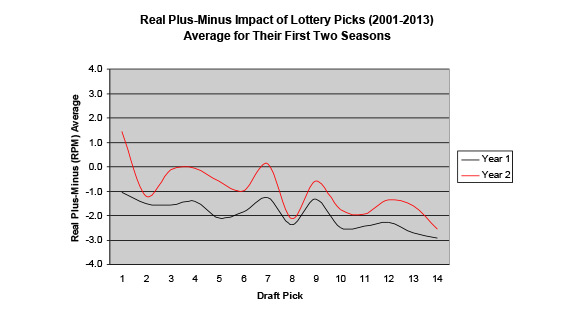 "As shown, NBA rookies -- even high lottery picks -- usually post starkly negative RPM values. In other words, they are hurting their respective teams more than they are helping. "
"According to RPM, no rookie this millennium -- not even LeBron -- has had a major positive impact on his team."
"So if the Cavaliers want to maximize their odds of returning to the Finals while they have LeBron James under contract -- that is, in the next two seasons -- swapping Wiggins for Love is not only a defensible move -- it's a complete no-brainer.
According to the RPM numbers, the trade should be worth an extra 10 or more wins for Cleveland next season. That's enough of a boost to make the Cavs a legitimate title contender again."
http://espn.go.com/nba/story/_/id/11340 ... den-impact